Yiannis Ghikas was born in Athens Greece. With his background encompassing Computer Science alongside Design,
he employs functionality as the ultimate purpose of his designs while explores their potential emotive responses.
He sees design as a process of satisfying needs either tangible or intangible.


His "Monarchy" stool has received the red dot design award (2009).
He has worked with companies like feld (Belgium), Objekten (Belgium), miniforms (Italy), convex (Greece),
the Industrial Gas Museum/Athens. His work has been exhibited internationally.
Photographs by Giorgos Vitsaropoulos
\\\
Candy, a wall hanger for Miniforms.
It consists of two wooden elements and a specially-designed metal joint.
Apart from clothes, Candy is ideal for hanging your helmet, your wide-straped bag or even use it as a book stand.
What makes Candy special is the purity of its form, the way the light is cast on it, highlighting its three-dimensional character,
its generous size, the warmth of its material, as well as the friendly way it touches the objects placed on it.
A single Candy hanger or an arrangement of more can give our wall an aesthetic appeal and at the same
time convert it into a functional surface.
Mutant Vase
3D Printed Protype
Grip lamp for Creaid, 2016
Everything begins with an idea. An idea that you have to grab it and handle it properly.
Designing our lamp for Creaid's designers lights project, we started with a bulb,
symbol of the genius idea and inspiration and we added a grip.
A grip with a pattern, like the ones we find in bicycle grips in order to offer a stable grasp.
All lights will be auctioned online, and will be presented in an exhibition which will take place at One Athens,
in April 2016."Designer Lights" aim to create a playground for the Athens General Children's Hospital.
Manufacturer, technical advisor, Giorgos Sofos-Gsa Metaltech 


Base dimensions: Diameter 55 mm, Height 97 mm
Cnc milled solid brass , Textile cable cord, Inline dimmer, E27 bulb, 125mm diameter
Candlehandle
Client: In
dustrial Ga
s Museum/Athens
Manufacturer: Convex, Greece
Design: Yiannis Ghikas 
The gas plant of Athens was founded in 1857 in order to meet the city's need for public lighting and has left its mark
on the city's urban planning and its economic development. It was the first power production unit
not just in Athens, but across Greece.
 
The gas plant provided the city with lighting and power for nearly 130 years. The City of Athens had been receiving
complaints about the quality of gas since 1883, and by the '60's the factory was running at a very low level,
because the type of energy produced was considered to be "obsolete". In 1984 the factory's operation was suspended,
not so much due to the pollution produced, but mainly due to its location in the center of Athens, near Acropolis.
 
Almost thirty years after the suspension of its operation, the first industrial museum of Athens
– the Industrial Gas Museum – was inaugurated in the factory's complex of historic buildings,
under the auspices of the City of Athens.
 
On the occasion of the museum's operation, a gift shop was also opened in its premises.
The aim of the gift shop is to support the work of Greek industrial designers, so that they produce their designs
within the country, given the strong need for domestic production.
 
The first industrial designer to get commissioned by the museum was Yiannis Ghikas, who turned to the field of lighting,
since the gas plant was mainly founded in order to provide lighting, and to the concept of the "old fashioned"
and "obsolete" – characteristics that led to the suspension of the factory's operation.
Yiannis Ghikas designed – what else? – a candle holder, an "old technology" source of light.
Candlehandle is manufactured in Greece by Convex, a greek family company operating in the field
of decorative hardware since 1973.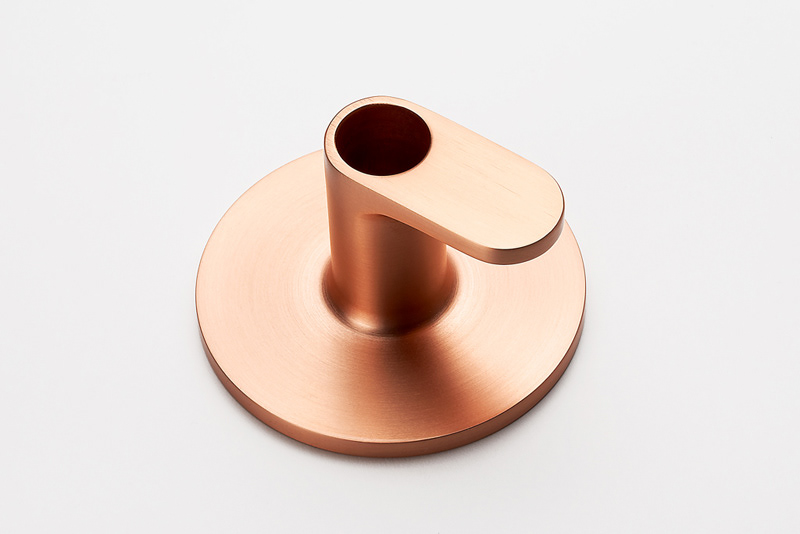 Rush pattern cushion, 2014
Handmade silkscreen by Fuzz ink 
75% cotton, 25% polyester off white fabric
Available in Green, Brown and Blue
Made in Greece - Self production
Tree, pepper mill, 2013
Prototype in solid beech wood, Thanassis kalkanis
Producer: objekten, belgium

Under the heat of July in Athens and having a peppermill mechanism
on my desk i whispered "O christmas tree" and ...here it is.
The "tree" pepper mill is ideal for adding some extra taste to the christmas turkey but apart from that
it is a functional object that with its toy-like aesthetics could stay on the dinning table
or kitchen's countertop even when Christmas is over...
"Out of sight", Ring
Solid silver, platinum plated
"Decorating our body is a primordial human desire. My first attempt to design a ring, an object with a purely
decorative purpose, put me in front of a dilemma. A part of me wanted to reduce the form to the basics,
as I usually do, whereas another part wanted to create decorative patterns, proper to a purely decorative object.
I decided to merge the two approaches, however conflicting. The decorative pattern is placed on the inside,
out of sight, but I know it's there... Only a small detail is left in full view, hinting its presence to the rest of the world."
Door handles, 2013
Producer: Convex, Greece